What is eco-friendly dry cleaning?
Eco-friendly dry cleaning uses cleaning solvents that are proven to be both effective for cleaning and safe for you and the environment.?
What are the benefits of Eco-Friendly Dry Cleaning?
White garments look whiter
Colored garments look sharper
Garment life is extended because this cleaning method is very gentle on fabrics
Garments will feel smoother
Biodegradable
Non-allergenic, non-toxic
Safe for you, your family, and the environment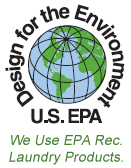 We also make a conscious effort to save water, energy, plastic, and paper products whenever we can.